Welcome to my 125
th
gems post. This is where I share some of the latest news, ideas and resources for maths teachers.
I have a reason for publishing this gems post so soon after my last one! A teacher emailed me an Easter treasure hunt that students can do at home and I realised that if I don't publish it today, it will be too late. So here you go. Two blog posts in a week - it's like a flashback to 2014 when I was a super keen newbie blogger with a million things to say.
1. Treasure Hunt
Thank you to maths teacher Emily Fleming who has written a maths Easter egg treasure hunt for each year group in Years 10 to 13 at her school. The idea is to send the clues to the parents and they hide the clues and eggs for their kids. You can download these treasure hunts
here
. Read about Emily's maths charity work in
Gems 96
.
Related to this - I love the idea of using chalk to write maths problems on pavements for people to solve when out doing their daily exercise. I saw this tweeted by
@5BMT5B
. The hashtag is
#mathwalk
.
2. Year 6 SATs Generator
Solomon Kingsnorth (
@solomon_teach
) created a clever
generator
which clones any past Key Stage 2 arithmetic paper and changes the questions each time.
3. More-Same-Less
Last month Ashton Coward (
@ashtonC94
) and Peter Mattock (
@MrMattock
) launched a new website called
More-Same-Less
. The tasks are inspired by the work of John Mason - read a description of how they work
here
. Teachers are able to submit tasks for inclusion on the website.
Here's an example of a more-less-same task, created by Ashton Coward:
4. Jenga Views
Thanks to David Butler (
@DavidKButlerUoA
) for creating a set of
Jenga Views puzzles
. Children are provided with plans and elevations and use Jenga Blocks to build the corresponding structures.
5. School Closure Resources
As in my last two posts, here are some resources that have been made available to support school closures:
Update
I don't have much to update you on to be honest. Apart from a few days at school, I have mainly been sitting at home... If you missed it, do check out my recent podcast with Craig Barton
here
. And remember that my
topics in depth videos
and my book
A Compendium of Mathematical Methods
might help you while away the hours in lockdown.
Finally, do check out this lovely set of '
Corona Conundrum
' puzzles from Chris Smith (
@aap03102
).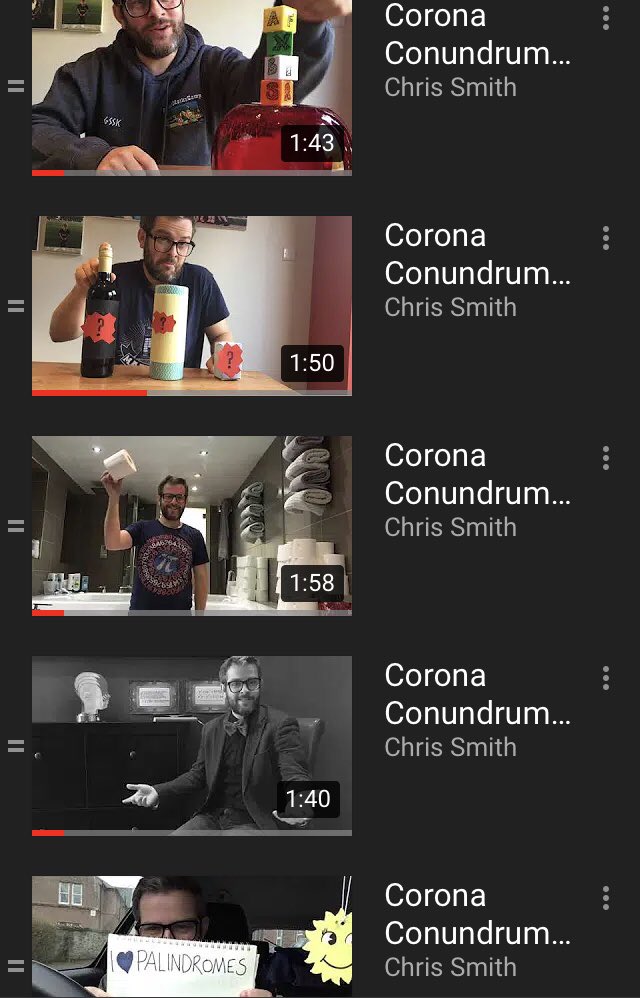 Stay safe, maths teachers. x